This article was originally published on the web on livingbonsai.com however that website is defunct at June 2012. The copyright is with the original owners of livingbonsai.com
---
Species of Bonsai
We have chosen our top 10 favourite species of Bonsai to illustrate and comment upon in this section. We have done this in preference to swamping you with an encyclopedic volume of species of Bonsai which is better suited to a grey and dusty book.
1. Japanese White Pine

This tree has been used as a Bonsai by the Japanese for centuries and is the pine with the shortest needles. Although its bark does look very mature with age you will find many White Pines grafted onto more mature looking Japanese Black Pines.
When presented properly this Bonsai offers many stunning options. It needs plenty of sun and careful watering to ensure even moisture but not a soaking environment.
2. Chinese Juniper

This really is a classic Bonsai tree and one which is used in virtually all styles. They are very robust and hardy trees requiring good light and air. Die back is common when either of these elements is absent, however, the Juniper will invariably spring back to life and provide the owner with a second chance! Excellent species for carving Sharis or Jins.
3. Deshojo Maple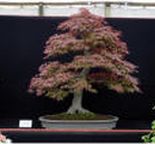 Hugely popular Bonsai in both the UK and Japan - a classic species. The tree has a multitude of colour changes throughout the Spring to Autumn period, especially if the Bonsai is exposed to the right levels of sunlight. It needs daily watering in the growing season and protection from leaf burn on particularly hot days.
4. Hornbeam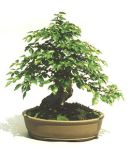 This is a Bonsai well known for developing multiple, twisted and aged looking trunks. Its foliage, especially the European variety, is usually reasonably small giving it a classic and realistic appearance. It likes a semi-shaded position in the open air and regular watering and plenty of feeding during the growing season.
5. English Oak

We had to include a native species and the obvious choice was Oak. A quality Oak Bonsai will appear as aged as any Japanese tree with sufficient maturity. Being native the common English Oak is tolerant of most types of positions, be it shaded or in full sun, but they prefer a slightly semi-shaded spot. Beware of frost and feed well during the growing season.
6. Trident Maple

The Trident Maple makes an appearance due its twin ability to grow at a good speed and to offer the enthusiast a species which spreads its roots at a prolific rate. The latter reason is why you will see many Tridents in "root over rock" styles. The leaves have three lobes (hence Trident) and the trunk also becomes quite thick early on its maturity. It requires plenty of sun and water during the growing season.
7. Chinese Elm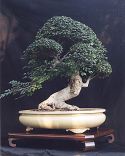 The Chinese Elm is probably the most well known Bonsai tree in the UK and is the Bonsai that most people associate with the art due to its appearance in non-Bonsai nurseries. It is a robust and hardy tree which likes plenty of water and sun and can survive both indoors and outside, assuming it gets some sun during the summer months and frost protection during the winter months.
8. Scots Pine

Difficult tree to develop into a quality Bonsai due its tendency to lose its lower branches (hence many Scots Pines are found in the literati style) and the fact that it can take many years to get decent back-budding. However, once developed its appearance can be as striking as a Japanese White Pine. Water sparingly but do not let it dry out and protect from frosts.
9. Larch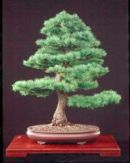 A number of amateurs experiment with a Larch as its branches usually offer up a triangular appearance and its bark appears aged and substantial quite early on its life. You will also find many a group display being dominated by Larches. Overall they are relatively easy to care for with dry weather not hampering their development too much. More mature plants don't need heavy watering or generous feeding so a good Bonsai for the absent minded!
10. Serissa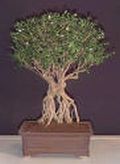 Another indoor Bonsai although the Serissa can only be kept indoors for it to survive for any reasonable period of time. Its attraction is twofold; firstly its trunk and roots twist and spread in a very dramatic manner, and secondly during the growing season it displays many small white flowers. Its common name is therefore the "Tree of a Thousand Stars". It does require plenty of water, but avoid direct sunlight and draughts. Although it is often given as a present it is notoriously difficult to keep.
---