---
These articles were originally published on the web on www.btinternet.com/~bury_rd however that website is defunct at February 2015. The copyright is with the original owners and the article is reproduced here as it is informative.
JUNE 2009
THE VEGAN NEWS  
Growing Year Round Salads In a Raised Bed
By Pauline Lloyd
---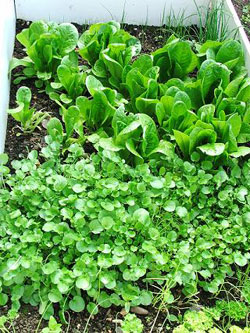 The Salad Bed on the 13th June 2009
From Front to Back: Parsley, Landcress, Winter Density Lettuces and Spring Onions.  
Making a Raised Salad Bed
After reading a copy of Salad Leaves for All Seasons by Charles Dowding,  I decided to make a new raised bed to be used for growing salad leaves.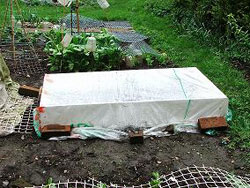 To construct my bed I used three white planks of wood (formerly my husband's bookshelves) that I had rescued from being sent to landfill last year. These had been kept in the shed over the winter with this purpose in mind.  Each wooden plank was about five feet long and about 10" high. I cut one of the planks in half to form the two smaller sides of the bed. Then I joined each of  the top four corners of the four planks together at right angles using four angle braces (obtained from B & Q) to form a rectangular box-like structure about 5' long by 2 ½' wide. I decided to use just four angle braces in order to keep costs low and to make the bed easier to dismantle. However, the bed could have been made more secure by using 8 angle braces, one placed in each corner at the top and at the bottom of each plank.  Finally, I banged some wooden pegs into the ground for additional support.  The finished bed is shown in the above photograph. It should be fairly easy to modify this design later on. For example, by covering the bed with a hinged window frame to convert it into a cold-frame like structure for winter salad production.
The completed raised bed was then placed on the surface of the soil on top of one of my standard veganic garden beds. Raised beds can be placed on most surfaces, including on top of gravel or grass.  However, if they are not placed on a soil surface, then they need to be filled with a suitable growing medium. This could include, for example,  a bottom layer of top soil, followed by a layer of garden compost and finally a thin layer of multipurpose compost onto which the seeds are sown. Charles Dowding recommends adding some basalt rock dust to ensure sufficient trace elements. I added a sprinkling of seaweed meal to my bed, which I always have in stock, being obtained originally from the Organic Gardening Catalogue.  Full details on how to make a raised bed are included in Chapter 3 of the book Salad Leaves for All Seasons.
Planting Up the Raised Bed
My raised bed was then planted up with seeds as follows:
Plantation French Mesclun Salad Blend Mixture - This mixture contains 11 varieties of seeds including various lettuces, chervil, corn salad, endives and spinach. I paid £0.50 for a large packet of seeds + vermiculite.  This packet of seeds and the Italian Mix mentioned below can be sown either in spring or in late summer. 
White Lisbon Salad Onions -  No cost, left to me by a neighbour in his will.
American Landcress -  £0.33 a packet. 
Plantation Italian Salad Blend Mixture - This mixture contains 12 varieties of seed including several lettuces, the chicories Pallo Rossa and Variegata Castelfranco, two endives and two types of spinach.  Price £0.50.   I have not sown this packet of seeds yet as it contains chicories and these would probably do better if sown later in July/August 2009. (These packets of Plantation seeds usually cost £1.99 per packet, but I bought this packet of seed and the French Mesclun above, whilst on special offer with both packets for a £1.00.)
As the soil in this bed already contained some garden compost before planting I simply gave it a sprinkling of seaweed meal before sowing the seeds onto the soil surface.  After watering the seeds,  I covered the raised bed with a polythene sheet, which I punctured with small holes for drainage when it rains. This polythene will be left in place until after the seedlings have germinated and developed somewhat and will then be replaced with a covering of  plastic mesh netting, in case the neighbourhood's cats think they have been provided with an extra large litter tray!
Of course you do not necessarily need to make a special raised bed in order to grow your own salad vegetables. You could simply grow them in an ordinary garden bed, or plant them in multi-purpose compost in seed trays or in containers of various sorts, which could then be placed indoors in winter/outside in summer.  
---
Useful Salad Plants
The following plants are especially suitable for salad leaf production:
Amaranth
*American landcress (a variagated form is also available from T & M) 
Baby leaf lettuces 
Basil (e.g Lettuce-leaved Basil)
Beets (e.g. Bull's Blood, Erbette) 
Chard (ruby, yellow and rainbow chard can all be used to produce baby leaf)
Chervil
*Chicory - grown for forcing as chicons (e.g. Whitloof Zoom F1, Yellora, Rossa di Treviso)
Chives
Coriander leaf
Endive (e.g. Cornet de Bordeaux, Fine de Louvier, Pancalieri)
Kale leaves (Red Russian)
*Lamb's Lettuce (Corn Salad) (e.g Vit, Louviers, or Verte de Cambrai)
Leaf chicory (e.g Catalogna, Red Leaved Dandilion, Treviso svelta)
*Leaf endives 
*Leaf mustards (e.g Ruby streaks, Golden Streaks, Green in the Snow, Giant Red etc)
Leaf radish (e.g. Sai Sai, Red Stemmed)
Mibuna
*Mizuna
Mitsuba (Japanese Parsley)
Morocan Cress
ParCel
Parsley (e.g Champion Moss Curled)
Radicchio  (e.g. Pallo rossa, Castelfranco)
*Rocket (Apollo, Skyrocket, Wild Rocket, Rucola)
Spinach (e.g Tarpy, Lazio and Tetona)
Sugarloaf chicory (e.g Pan di Zucchero)
*Turnip greens (e.g. Namenia)
Texel greens
*Watercress
*Winter cress
*Winter Purslane (Claytonia)
In addition to the above salad leaves most seed companies now sell mixed packets of seeds for salad production. These often have names like oriental mix, misticanza, mesclun, miscuglio, baby leaf mix, mixed leaves, saladini, Italian blend,  or oriental saladini. If you are not sure what you want to grow, then such mixtures can be useful and often work out much cheaper than buying several different packets of seeds. Some mixtures include lettuces and herbs, whereas others are mainly based on oriental vegetables, or contain a mixtures of endives and chicories. 
By purchasing a selection of different seeds, or several packets of different mixtures, it is possible to grow your own salad for most of the year.  
The plants marked with a * in the list above are especially useful for producing salad leaf throughout the winter months and many of these grow well in containers, which could be placed under cover or brought indoors to overwinter.